Canada Wins First Game at World Indoors Against USA
---
---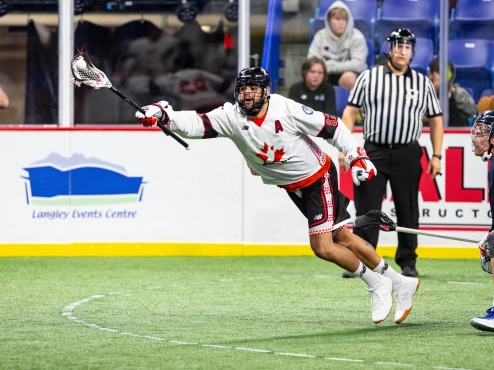 ---
Langley, BC— Team Canada played their first game at the World Indoor Lacrosse Championship this evening in Langley, BC. Canada came away with a 16—6 win against Team USA in their 7:30 p.m. PDT game.
Canada's Ben McIntosh, #90, scored the first goal of the game, assisted by #17 Curtis Dickson and #44 Dane Dobbie. While the USA quickly tied it up, #91 Robert Church, assisted by #32 Shayne Jackson and #42 Mark Matthews, scored for Canada. The first quarter ended with a strong lead for Canada 7-2.
Quarter two was a shutout for Canada's goalie #45 Dillon Ward. Two goals for Canada were scored, with Canada leading 9-2. Canada sunk three more goals in the third quarter, with USA getting only one past Ward.
It was an exciting final quarter with the USA scoring two more goals and Canada maintaining their lead with four more points. Canada ended the game with a strong 16-6 win, with Matthews scoring three goals for Canada and Ward with a 86 save percentage.
"You're bringing a bunch of guys together who haven't necessarily played together, and the thing that stood out to me is they played an honest game. They played hard all the way through, no short cuts and they did the little things that we need to have success," said Glenn Clark, head coach of Team Canada.
Clark said the unselfish plays of the Team Canada players stood out.
"From Dhane Smith chasing down the guy on a breakaway, to guys blocking shots and running to the bench to create transition—all of those smaller plays within the game are what you need to have success. All the little plays were really important to me as a coach," said Clark.
Team Canada plays their second game on Sept. 20 at 4:30 p.m. PDT at the Langley Events Centre, in Langley, BC.
Schedule
The complete match schedule, including playoff brackets, can be found here.
September 20: Canada vs. England 4:30 p.m. PDT at the Langley Events Centre.

September 22: Canada vs. Israel 4:30 p.m. PDT at the Langley Events Centre.

September 23: Canada vs. Iroquois 7:30 p.m. PDT at the Langley Events Centre.
Information
About the Canadian Lacrosse Association
Founded in 1867, the Canadian Lacrosse Association (CLA) is the governing body responsible for all aspects of lacrosse in Canada. Our organization is comprised of 10 Member Associations representing nearly 85,000 individual participants, including coaches, officials, and athletes of all ages and abilities. The CLA's mission is to honour the sport of lacrosse and its unique nation-building heritage, by engaging our members, leading our partners, and providing opportunities for all Canadians to participate. The CLA oversees the delivery of numerous national championships and the participation of Team Canada at all international events sanctioned by the Federation of International Lacrosse (FIL). The CLA is proud to be affiliated with partners that share the same vision and values, including our corporate partners - New Balance Athletics, Warrior Sports, NormaTec Recovery Systems, Canadian Red Cross, Westjet, RockTape, OPRO and Baron Rings - as well as our funding partners the Government of Canada, the Coaching Association of Canada, and the Canadian Lacrosse Foundation. For more information on Canadian Lacrosse Association and the sport of lacrosse, visit our website at www.lacrosse.ca and follow us on Facebook, Instagram and Twitter.
For more information, please contact:

Victoria Klassen
Communications and Marketing Coordinator
Canadian Lacrosse Association
Phone: 613-260-2028 ext. 302
Email: victoria@lacrosse.ca