Women's U19 Field
Player Profile: Skylar McArthur - Hometown Hero
---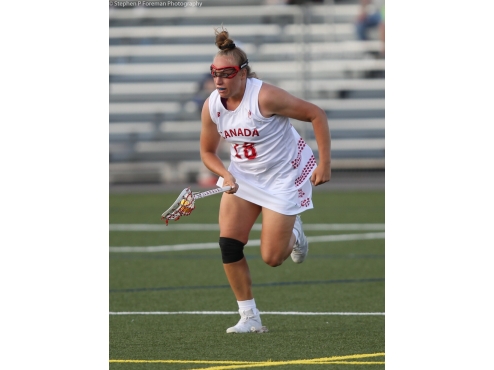 ---
Skylar McArthur is the only athlete competing in the 2019 Women's Lacrosse U19 World Championship who calls Peterborough home. Peterborough last hosted the Women's Lacrosse U19 World Championship back in 2007.
Skylar spent five years of her childhood in Germany, where her father was playing professional hockey. One of his teammates, Brad Self, introduced Skylar to lacrosse.
"Brad would bring his lacrosse sticks over during the day, and we'd play lacrosse," remembered Skylar. "That was how I got into it. Then when we moved to Canada, I started playing box lacrosse. Later I started playing field lacrosse."
Peterborough is where Skylar calls home, growing up playing with Kawartha Lacrosse. She played with Team Ontario for two years in the U19 division, winning gold both years and leading the team as captain in her second year. Now Skylar is entering her sophomore year of university at Canisius College, where she plays lacrosse and is studying health and wellness.
"I love running. Running is my favourite thing to do in lacrosse," Skylar expressed. "The skill level that's required really makes lacrosse unique, and having to be dominant in both hands. The speed of the game really is a big reason that I like it."
As a defence player, Skylar has been seeing lots of action on the field during the first three games Team Canada has played. There is lots of support from friends, family, and fans in the stands for the local athlete.
"I'm most excited to be playing in my hometown. It's something that not a lot of people get to do. It's only coach Allison Daley and I who are from Peterborough," shared Skylar. "It's exciting that all my friends and family can come watch as I play on the world stage. It's so special to have the opportunity to play in the world championship but also play on home soil."
The athletes on Team Canada have been growing close during the practices, games, and living together at the Trent University dorms.
"We all have a great connection with each other, and we're always wanting to make each other better every day. I think that's an important thing to have as we defend Canada's gold medal. Everyone is working hard every day and we keep getting better. That's the most important thing that we've established," said Skylar.
The number Skylar is wearing on the field at the World Championship, number 18, goes back to her days in Germany when she would toss the lacrosse ball around with Brad Self.
"Number 18 was Brad Self's number, the person who showed me lacrosse. When he played hockey with my dad, that was his number," Skylar said. "I always wanted to be like him, he was like a big brother. So, in hockey I was 18, and in lacrosse I've always been number 18."
About the Canadian Lacrosse Association
Founded in 1867, the Canadian Lacrosse Association (CLA) is the governing body responsible for all aspects of lacrosse in Canada. Our organization is comprised of 10 Member Associations representing nearly 85,000 individual participants, including coaches, officials, and athletes of all ages and abilities. The CLA's mission is to honour the sport of lacrosse and its unique nation-building heritage, by engaging our members, leading our partners, and providing opportunities for all Canadians to participate. The CLA oversees the delivery of numerous national championships and the participation of Team Canada at all international events sanctioned by the Federation of International Lacrosse (FIL). The CLA is proud to be affiliated with partners that share the same vision and values, including our corporate partners - New Balance Athletics, Warrior Sports, NormaTec Recovery Systems, Canadian Red Cross, Westjet, RockTape, OPRO and Baron Rings - as well as our funding partners the Government of Canada, the Coaching Association of Canada, and the Canadian Lacrosse Foundation. For more information on Canadian Lacrosse Association and the sport of lacrosse, visit our website at www.lacrosse.ca and follow us on Facebook, Instagram and Twitter.
For more information, please contact:

Victoria Klassen
Communications and Marketing Coordinator
Canadian Lacrosse Association
Phone: 613-260-2028 ext. 302
Email: victoria@lacrosse.ca