Women's U19 Field
Player Profile: Annabel Child - Building Community in the Game
---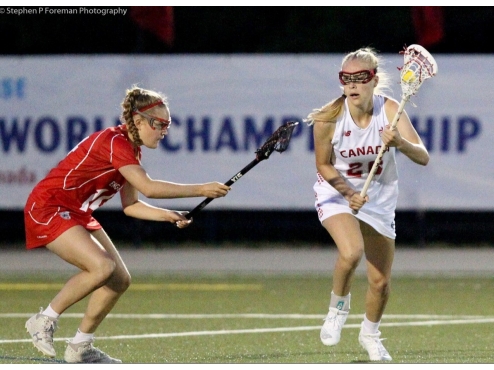 ---
Annabel Child's tryout experience was different than most of the other girls who were aiming to be on the current U19 Canadian Women's Field National Team. Prior to the tryouts, she had a serious injury that resulted in her being unable to attend the first two evaluation camps. Instead, she was invited to be evaluated alongside the other 25 girls who were invited back for the final evaluation camp in June.
"I was extremely lucky to be invited to the training camp in June," she stated. "Team Canada so far has been an amazing experience and I am so grateful and honoured to have made the team."
This strong chemistry is something Annabel has felt growing between the players on the Team Canada final roster for the Women's U19 Field World Championships that are now taking place in Peterborough until August 10.
"It's a really great group of girls and we have quickly bonded both on and off the field," Annabel said. While most of the girls got to know each other during the three evaluation camps, Annabel only attended one camp, and therefore only had one opportunity to meet her new teammates.
Annabel also believes the coaching staff for this U19 Canadian team have played a large roll in the development of chemistry on the field.
"The coaches have done a really amazing job of creating a strong team atmosphere," Annabel emphasized.
As the World Championships continue, Annabel is looking forward to becoming even closer with her teammates while defending the 2015 gold medal in front of a home crowd. She is also looking forward to meeting players from around the world.
"I'm excited to play with and against some of the best players in the world and to meet and interact with players from other cultures," she explained prior to the Opening Ceremonies that took place on Wednesday July 31st at 6pm.
Before making Team Canada, Annabel said her most memorable lacrosse moment was winning Nationals with Team Ontario last summer. She played in a final game against Alberta that was very tight, but her team was able to pull through by working together and for each other.
Annabel also plays for the Hill Academy where she was named the Hill Academy Female Lacrosse Most Improved Player of the Year in 2018 and plays for the Oakville Lady Hawks.
After the completion of the U19 World Championships this August 2019, the midfielder has one more year of high school and then will play at Harvard University. While in university, she wants to make a positive impact on her team and to someday represent Canada at the senior level, hopefully in the Olympics.
Until then, Annabel will get a taste of how it feels to be a part of Team Canada for the rest of this week, something she has wanted for a long time.
"Putting on that Team Canada jersey and representing my country is something I have dreamed about doing since I was young."
About the Canadian Lacrosse Association
Founded in 1867, the Canadian Lacrosse Association (CLA) is the governing body responsible for all aspects of lacrosse in Canada. Our organization is comprised of 10 Member Associations representing nearly 85,000 individual participants, including coaches, officials, and athletes of all ages and abilities. The CLA's mission is to honour the sport of lacrosse and its unique nation-building heritage, by engaging our members, leading our partners, and providing opportunities for all Canadians to participate. The CLA oversees the delivery of numerous national championships and the participation of Team Canada at all international events sanctioned by the Federation of International Lacrosse (FIL). The CLA is proud to be affiliated with partners that share the same vision and values, including our corporate partners - New Balance Athletics, Warrior Sports, NormaTec Recovery Systems, Canadian Red Cross, Westjet, RockTape, OPRO and Baron Rings - as well as our funding partners the Government of Canada, the Coaching Association of Canada, and the Canadian Lacrosse Foundation. For more information on Canadian Lacrosse Association and the sport of lacrosse, visit our website at www.lacrosse.ca and follow us on Facebook, Instagram and Twitter.
For more information, please contact:

Victoria Klassen
Communications and Marketing Coordinator
Canadian Lacrosse Association
Phone: 613-260-2028 ext. 302
Email: victoria@lacrosse.ca