Women's U19 Field
Player Profile: Nicole Perroni - An 18th Birthday to Remember
---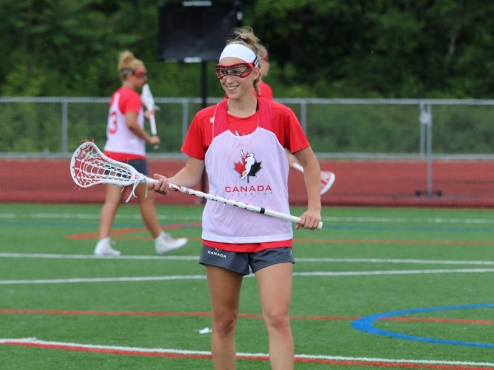 ---
Nicole Perroni was one of the preschoolers who played a mini lacrosse game during the 2007 Women's Lacrosse U19 World Championship. Since that moment it was her dream to play on Team Canada. In less than a week, her dream will come true as she steps onto the field as a Team Canada athlete this time.
It will be an extra special week as Nicole celebrates her 18th birthday at the 2019 Women's Lacrosse U19 World Championship. With an August 8 birthday, Nicole said her jersey number 8 has a special significance. The U19 Worlds takes place from August 1-10 in Peterborough, Ontario.
At four years old, Nicole started playing lacrosse. Her father played the game, and he signed up Nicole and her brothers once they were old enough. Nicole has since spent her lacrosse career playing with the Lady Blue Knights. She proudly has eight provincial gold medals and one provincial silver with them.
"My favourite lacrosse moments are always the time I spend with the team either at the field, or in our hotel, or doing team bonding," Nicole shared.
Nicole will be creating many more memories like this with her new Team Canada teammates.
"I had an amazing time at the Team Canada tryouts, and I feel like being with the best girls in the country really helped to push me to work harder and play my best," Nicole expressed.
"Making the team means so much to me because it's been something I've dreamed about since I was first starting lacrosse and watching all of the older players play in their World Cups."
This fall, Nicole will be playing division one lacrosse at the University of Louisville. She has her sights set on making the Canadian Women's Senior Lacrosse Team in the future.
As a midfielder, Nicole's favourite lacrosse player is Demsey Arsenault of Boston College. Nicole describes Arsenault as a "two-way midfielder who is gritty and always gets the ground balls." It is this style of play that Nicole aims to exemplify when she plays and that spectators can expect to see at Worlds.
"All of the girls on the team are amazing people and players," said Nicole. "Even though we've only played together a short amount of time, we already have great chemistry on and off the field."
---
About the Canadian Lacrosse Association
Founded in 1867, the Canadian Lacrosse Association (CLA) is the governing body responsible for all aspects of lacrosse in Canada. Our organization is comprised of 10 Member Associations representing nearly 85,000 individual participants, including coaches, officials, and athletes of all ages and abilities. The CLA's mission is to honour the sport of lacrosse and its unique nation-building heritage, by engaging our members, leading our partners, and providing opportunities for all Canadians to participate. The CLA oversees the delivery of numerous national championships and the participation of Team Canada at all international events sanctioned by the Federation of International Lacrosse (FIL). The CLA is proud to be affiliated with partners that share the same vision and values, including our corporate partners - New Balance Athletics, Warrior Sports, NormaTec Recovery Systems, Canadian Red Cross, Westjet, RockTape, OPRO and Baron Rings - as well as our funding partners the Government of Canada, the Coaching Association of Canada, and the Canadian Lacrosse Foundation. For more information on Canadian Lacrosse Association and the sport of lacrosse, visit our website at www.lacrosse.ca and follow us on Facebook, Instagram and Twitter.
For more information, please contact:

Victoria Klassen
Communications and Marketing Coordinator
Canadian Lacrosse Association
Phone: 613-260-2028 ext. 302
Email: victoria@lacrosse.ca